Castile Bar Soaps
Regular price
$0.00 USD
Sale price
$6.50 USD
Unit price
per
Sale
Sold out
Castile soap is made with fat from plants rather than animal fats such as tallow. Although 100% Olive oil is the traditional base oil, it can be made with Olive oil + other oils like Sunflower, Babassu, Palm Oil, etc.
Our Palm Kernel Oil is imported from Cameroon, provided by women who make their living honestly without hurting the environment, and rely on buyers for their livelihood. 
Share
Ingredients

* = organic

     ○ Turmeric acts as a natural anti-bacterial agent and helps provide Vitamin E to moisturize & revitalize your skin cells. It further helps to battle acne and restore skin to its natural healthy glow.

*Olive Oil, Sunflower Oil, *Palm Kernel Oil, *Raw Shea, Mango, & Cocoa Butter, *Castor Oil, *Turmeric Root, *Turmeric Powder, Turmeric essential oil.

     ○ The anti-inflammatory properties of this soap is perfect for individuals suffering from acne, oily glands, scars, and blemishes. The activated coconut Charcoal and Neem oil in this bar absorb all skin impurities while clearing the complexion.

*Olive Oil, *Coconut Oil, Sunflower Oil, homemade Almond Milk, *Raw Shea, Mango & Cocoa Butter, *Castor Oil, *Neem Oil, Activated Coconut Charcoal, Essential Oils (Peppermint, Eucalyptus, Frankincense, Tea Tree, Thyme)

     ○ Our shampoo bar rids the scalp of excess oil or dirt while assisting with healthier hair growth. Amla and Brahmi are used in Ayurvedic medicine to remove dandruff, condition, and promote thicker hair. Chébé powder from Chad helps retain moisture and growth.

*Olive Oil, Sunflower Oil, *Palm Kernel Oil, Grapeseed Oil, *Hemp Seed Oil, *Neem Oil, *Castor Oil, Bamboo Leaves, *Burdock Root, *Fenugreek Seeds, Calendula Petals, *Powders (Chébé, Amla, Brahmi, Neem, Shikakai) Essential Oils (Rosemary, Peppermint, Eucalyptus)
How to use

For body use, rub the bar directly onto a wash cloth or loofah and get a really good lather, then apply to wet skin.

If using a shampoo bar, rub it directly on the scalp in circular motions, or between wet hands, and smooth the lather onto hair.
Shipping

All orders are processed within 1 to 3 business days (excluding weekends & holidays) after receiving your order confirmation email.

We ship products every Wednesday and Saturday, you will receive another email once your order has shipped.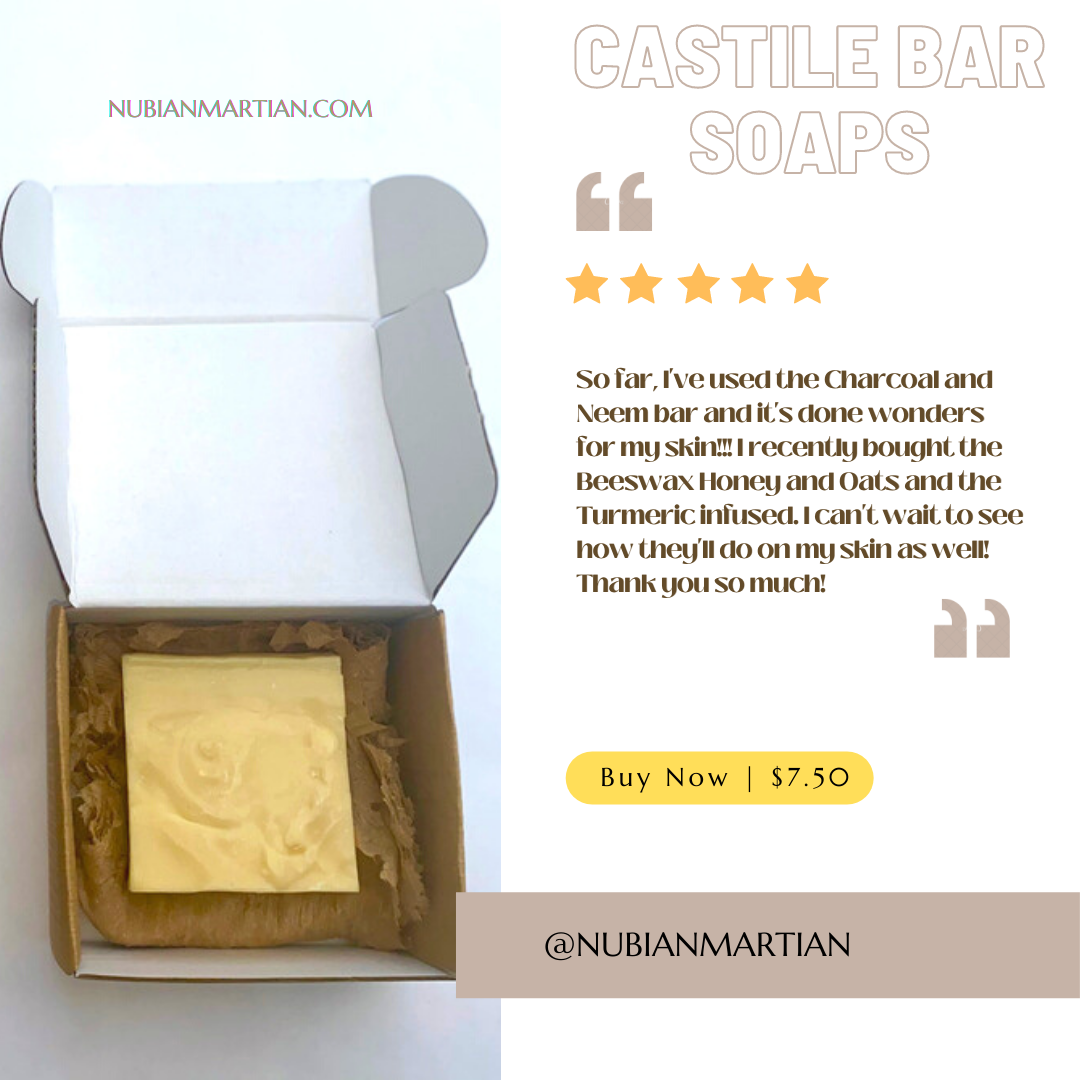 Longest Lasting Natural Soap Ever !!
I'm so used to other natural soaps being done so quick. I keep my bars in the shower and try to keep them from under the water , but with these Nubian Martian bars ??! By the time I was replacing another brand of natural soap, I was STILL using my first turmeric bar, and not even close to being done with it. Quality is amazing
BOMB
my fav soaps ! they do not disappoint! they target acne and discoloration, 10/10
The best soap EVER!!!!
These soaps are sooooo amazing !!!!! They smell so divine !!!! I used them for my face and body and children !!!!! I even got one for my husband and he loves it !!! I will be a LOYAL returning customer thank you so so much for your products !!!!